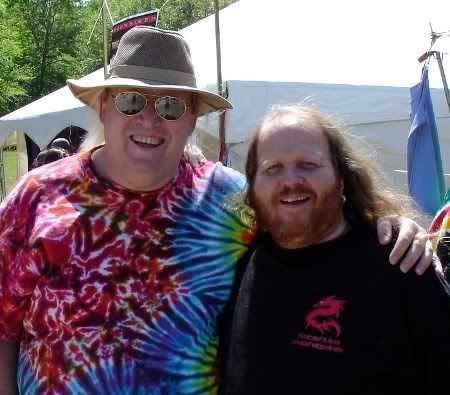 Myself & Brian Farmer. Warren Haynes' tech
30 Years of a Life Sentence of Guitar!!
I've been playing guitar since the age of 13,Im 45 now. Played my 1st bar gig at 15. I've covered top 40,country,new wave,oldies,classic rock and blues. Currently I've been playing more extended jam type stuff ala Gov't Mule. I've had the good fortune to have been able to meet Warren Haynes and talk guitar with him a couple of times and this has done alot to inspire me. I often say "other people have boats & snowmobiles, I have guitars.
Emotion & Heart is what it's all about!!
Lets talk and maybe get together and jam. Currently I'm playing in a 3pc "Power Trio" called "Blue Rhythm" Blues/Jam Rock & Classic Rock but not the stuff everybody else plays..stuff, when you hear it you'd say, "That's really cool!!" We play for the love of playing NOT for our living. If you do the same let me hear from you.

Current Equipment as Follows: Fender SRV Strat (1st. year of issue), Fender Relic NOS Strat (Lake Placid Blue) Fender Custom Shop"63"Telecaster(Lake Placid Blue) ,Fender Custom Shop "60" Stratocaster w/EMG David Gilmour PU System, Gibson Les Paul Classic Plus-Honeyburst(great flame),Gibson Les Paul Custom Plus in Honeyburst(great flame),Gibson 58 Les Paul Historic/Authentic in Iced Tea,Gibson Gary Rossington Custom Shop SG,Gibson Firebird V,Gibson Doubleneck 12/6,Gibson ES-345, 83'Gibson Korina Flying V(58 Reissue), D'Angelico NYL-2 New Yorker Archtop,D'Angelico NYSD-9 Solid Body,Parker Fly Classic,Fender Jazz Bass,Epiphone Allen Woody Signiture Bass, Alembic Series 1 Bass Prototype, Martin 000038H Acoustic w/LR Baggs PU,Martin 00028 Eric Clapton Acoustic w/LR Baggs PU,Martin D1228 12 string W/LR Baggs PU,Chet Atkins Electric Classical,Ramirez Classical ...Amps & Stuff: 1955 Fender Tremolux (Restored), Soldano Astroverb head, Diaz CD-100 head,4x12TV Marshall Cab w/Celestion G12H's,4x12 Soldano Cab,2x12 Soldano cab w/Celestion Vintage 30's,Fender Acoustisonic Amp, Fender Hot Rod DeVille Rack includes Audiotechnica wireless, Soldano Spacebox Reverb & Sabine Tuner.Pedal Pal Pedalboard w/Boss Octave Pedal,Crybaby 955Q, Diaz Tremadillo, Ibenez Tube Screamer Hughes & Kettner Tube Rotosphere. Yea it's alot but they are a serious hoot to play!!!!!!!
Musical Influences
Jimmy Page/Eric Clapton/Mark Knoffler
Stevie Ray Vaughan/B.B. King/David Gilmour
Warren Haynes/Dickie Betts/Derek Trucks
Favorite Recordings
Allman Bro's Fillmore East
All SRV/ Gov't Mule/Zeppelin/ZZ Top/Floyd
All BB/Albert/Derek Trucks