WANTED!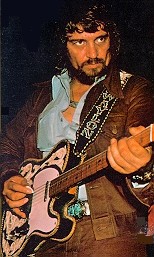 WANTED!



As far as music goes, it is a fairly recent thing with me at this point in time. I got my first guitar for the Christmas of '98. I kind of got to a slow start with it. But I started taking lessons and I have acquired some skill in playing it.

I'll tell you, the Christmas of 2000 I got quite a nice surprise. My folks rewarded my practicing with a new six-string: a Martin D-18. What an awesome gift that was! Its a fabulous guitar that has firmly established my love and affection for Martin dreadnoughts and for playing the guitar in general. After a long time of thinking about it, I finally gave it the name Drifter, after my first horse. I'm looking forward to many fine years of playing this guitar. My collection was further enriched a year later with the addition of an American Standard Telecaster that I've named Waylon in honor and in memory of one of the biggest musical influences on me who passed away Feb. 13, 2002. And I made another addition to my guitar collection on February 8, 2003: a Taylor 355ce. This new hoss has given me a great love for both Taylor guitars and 12 string guitars and I've given it the name Spellbound after my second horse. I have no idea where my next guitar purchases may go, if I get even more into music, it will definately not be the last guitar I get and even if I don't it probably won't be the end of the expansion of my collection.

I am a huge fan of country music as my list of influences shows. But I'm not limited to that I love classic and southern rock and I'm interested in studying it more along with blues and anything else that sounds good and might influence my sound. Thanks to the Eagles, there's getting to be a much bigger rock influence in my music. I've got a fairly broad range of influences and I would definately like to explore all of them. But I'll always have a core of traditional country and bluegrass as some of my favorite music. Most importantly of all though, I believe music should come from the heart and soul and that's what matters most to this hoss. I'm just looking to make simple music that is more acoustically oriented and is, in a word, soulful.

My goals are to work towards writing music of my own. As of 4/3/03, the second anniversary of my seriously songwriting, my catalog of songs had 120+ songs that are completed lyrically and about 20 of those have music to them. I think I've gotten a good start to it and songwriting has really become a labor of love for me. I enjoy it immensely; it has been something that has been an outlet for my feelings, thoughts, and opinions. And during much of this time I've been writing, I needed that outlet badly. I also plan to learn other instruments; currently on this list are the banjo, fiddle, mandolin, pedal steel guitar, and dobro, and bass but I won't limit it to just that if I feel inclined to learn something else in addition. But my first and truest love in music will probably always be the guitar, particularly the acoustic. My plans are probably just to play locally whereever I live and record my music for my own purposes, not to make a career out of, at least at this point in my life. But if I get a chance at the big leagues, I'll definately go for it. I guess I'm just a big dreamer, one of my songs is called 'Holding On To The Dream'. I'll post some of my songs as lessons or whatever works as things start to come together and hopefully I can get some feedback as to their potential.

Thanks for stopping by the corral and have a nice day. If you would like to talk, I would be more than happy to do so. Happy playing to everybody out there and yall come back now, hear?




And here I am with my D-18 that I've named Drifter, the prize of my collection so far and most likely to be my favorite guitar of all time.




And here's me with my Telecaster Waylon