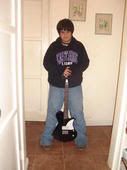 mesage me at http://www.myspace.com/the_mayhem
Whats up!.....welcome to the home page of next top artist!
Whats up names Josh! yes remeber that name because hes gonna be the next best guitarist!!............o ya almost forgot if you have any advice for a newbe like me plz message me anything you think i should know so i can become the best guitarits!!!!
Whats up once more !
my guitar is a first act model ME506 its very good to practice on and works very well i recomend for beginers :)

I have just started playin and can olny play bits and pices of songs like : hypnotize, kyptonite, delium trigger and in keeping secrts of SILENT earth 3......if you dount know who sings those you need better bands!!

ROCK ON AND PEACE
Musical Influences
system of a down
scorpions
any blues, rock, or jazz