Read more about
Marty Friedman: "The term 'virtuoso shredder' makes me cringe"
at MusicRadar.com
---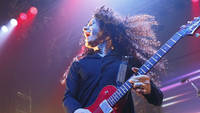 Millions of TV viewers in Japan know guitarist Marty Friedman for his hosting appearances on shows such as Rock Fujiyama and Hebimstasan – the latter of which translates to "Mr. Heavy Metal." But Friedman laughs at the suggestion that he's any kind of walking authority on the genre.
"That's just the name of the show, or at least that's the English translation of the title," he says. "Maybe people think that's what I am, but it's not the case. I would never think for a second that I was an expert on all things metal. God, no!"
Read more about