Read more about
11 of the best iPhone/iPad iOS effects processors
at MusicRadar.com
---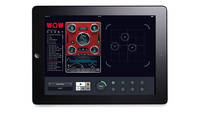 Between them, Audiobus and Apple's own Inter-App Audio functionality have made the concept of iOS effects more viable than ever.
While there are, naturally, still some limitations to what it's possible to do with an iPhone or iPad, the ability to create sounds, run them through independent effects apps and record them, all without the need for a computer, has really opened up the IOS platform as a tool for music creation.
In this list, we rounded up a collection of our favourite sound processing tools currently available for the platform, covering everything from flexible multi-effect apps to filters, delays, reverbs, guitar amp sims and mastering tools.
Of course, effects alone are somewhat limited without sounds to process and somewhere to send the results. So be sure to also check out our rundowns of the top iOS synths, grooveboxes and workspaces for more recommended apps.
Read more about