Read more about
Tom Scholz answers your questions!
at MusicRadar.com
---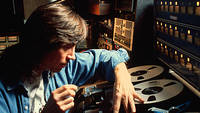 When we spoke with Tom Scholz last month, we tried to leave no stone unturned, peppering the iconic guitarist and architect of the famous Boston sound with questions about his idiosyncratic recording techniques, his gear, the recently issued Tom Scholz Gibson Collector's Choice #10 Tom Scholz 1968 Les Paul, and Boston's brand-new album Life, Love & Hope.
And yet, we didn't even scratch the surface, evidenced by the amount of questions for Scholz that we received from MusicRadar readers. While prepping for a New England-style blast of snow, the famed music maker and inventor sat down to answer your queries.
Read more about