Read more about
The 25 best Christmas songs of all time
at MusicRadar.com
---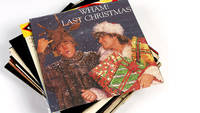 The Christmas song has been a staple of pop culture for well over 60 years. Every December, radio stations dust off a collection of classic croons, festive party anthems and odes to loved and lost ones from Christmases gone by. And then there are the throngs of new pop starlets desperate to tear off their own corner of that evergreen Christmas song royalty cheque.
But which one is the best? Which song distils the spirit of Christmas purely enough to send nagging Aunt Ethel into a post-pudding coma, shutting her up just in time for the Queen's speech?
When Ask MusicRadar posed the question, we knew that this had the potential to be more donkey derby than heavyweight title fight. But who crossed the line first?
Here are the 25 best Christmas songs of all time, as voted for by MusicRadar's music-making community and the readers of Guitarist, Total Guitar, Computer Music, Future Music, Guitar Techniques and Rhythm magazine. Rather suitably, our run-down begins with Mary's Boy Child. Scroll omn fo rthe 25 best Christmas Songs ever...
Read more about