Read more about
Tony Hajjar's At The Drive-In drum setup in pictures
at MusicRadar.com
---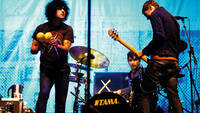 Brixton Academy is sold out the day Rhythm meets up with Tony Hajjar to talk about the triumphant return of At The Drive-In.
Born in Beirut, Tony's family moved to El Paso, Texas to escape the civil war raging in Lebanon. His older brother introduced him to Led Zeppelin, which hooked Tony on rock before he was bitten by the metal bug.
"[Metallica's] Ride The Lightning and Master Of Puppets changed my life," says Tony. "Then I started getting into really technical drummers like Deen Castronovo, he's in Journey now but he used to play in these prog metal bands like Cacophony with Marty Friedman. I was all about that double bass stuff.
"Besides how much I liked Lars Ulrich's style, I feel like the person who really moulded me was Vinnie Paul. There was something about his drumming. It wasn't like he was always trying to do a million things but when you let him go, he killed it. I always loved him for that."
When Tony threw his lot in with At The Drive-In he cut down to a single kick drum and joined the grind of building a following the old fashioned way: relentless touring.
"Playing a room that's 10ft x 10ft with three people every night in every basement in every small club, sleeping on the floor, picture that for years and years," he says. But the dedication paid off with critical and commercial success before At The Drive-In called time in 2001.
Vocalist Cedric Bixler and guitarist Omar Rodriguez-Lopez went on to become The Mars Volta, while Tony formed Sparta with fellow ATD-I alumni Jim Ward and Paul Hinojos. Then, out of the blue, At The Drive-In reunited earlier this year, playing a handful of warm-up shows before delivering a killer set at the Coachella festival.
Here we bring you pictures of Tony's kit from that Brixton Academy show, plus excerpts from Rhythm's interview, which you can read in full in the November issue of Rhythm magazine.
Read more about