Read more about
Tom Morello discusses his history with the acoustic guitar
at MusicRadar.com
---
During his career with Rage Against The Machine, Tom Morello blew people's minds by making his guitar sound like a turntable, an air raid siren, a theremin, a sci-fi ray gun – in short, anything but a guitar. And so it came as a double head trip when the unorthodox axe hero rechristened himself The Nightwatchman, a folk-based protest singer for the 21st Century, and wielded a nylon-string acoustic that sounded like, well, a nylon-string acoustic.
In Rage, Morello created his otherworldly audio sensations with an abundance of imagination and a series of non-high-end, Frankenstein-type electrics given memorable names like Arm The Homeless and Soul Power. "Misfit toys," he lovingly calls them. In similar fashion, to complement his rich, stentorian baritone as The Nightwatchman, he utilized, for the most part, a budget-priced Ibanez Galvador nylon-string acoustic dubbed "Whatever It Takes." (He later added a steel-string Gibson to the proceedings, one he called "Black Spartacus.")
"To me, it's immaterial to the creative process what the sound is," Morello says of his instrument choices. "I've always been of the mind that you get a sound and then you make music with that sound."
Now writing material for what will be a new Nightwatchman album, Morello sat down with MusicRadar to discuss his history with the acoustic guitar, the singers who helped shape his most recent output and why the vibe of an instrument matters as much as its tonal characteristics.
Unlike most players who start on an acoustic and graduate to an electric, you took the reverse route.
"That's right. I started on an electric guitar. I didn't have an acoustic until I went to college. In my junior year, I got a cheap Ovation knock-off called an Applause. It was my 'strumming-pirate-chanting-at-the-Renaissance-fair-serenading-ladies-at Harvard' guitar. [Laughs] Later, when I moved to Hollywood, it became my principle writing vehicle. I couldn't exactly be cranking the Marshall half-stack in my crowded apartment."
So you used that guitar to write riffs for your first band, Lock Up?
"Lock Up, Rage… The Ovation was the guitar I had for Lock Up and the early days of Rage Against The Machine. A nylon-string guitar sort of appeared into Rage. It was my girlfriend's old, beat-up guitar – nothing fancy, it was a no-name, Mexican nylon-string instrument. Often, the rehearsal studio was deep in the heart of the San Fernando Valley, so I would do a lot of my practicing and writing on the nylon-string."
A lot of people would find that so surprising – you're such a sonic experimenter.
"It got to the point where I could hear in my head very clearly, even when playing a nylon-string acoustic in my bedroom, what it would sound like with roaring amplification in a stadium in front of 80,000 people [laughs], or how it would sound like on record, with the enormous bounce of that rhythm section.
"That all just came with a comfortability with my own writing and also knowing the talents of the other guys in Rage Against The Machine and Audioslave. But yeah, my contribution to those songs, many of them were first put down on a $20 Radio Shack cassette recorder with the nylon-string acoustic."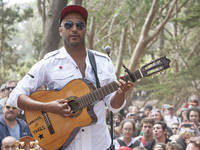 Playing the "Whatever It Takes" Ibanez Galvador at the Oustide Lands Music Festival, San Francisco, CA. © Tom Tomkinson ./Retna Ltd./Corbis
At what point did you get the Ibanez Galvador?
"The Galvador. When I began writing the first batch of The Nightwatchman material in 2001 and 2002, and I was playing shows, I was at a distinct disadvantage because the guitar I was playing didn't have a pickup in it. Because I play very lightly, even if the guitar was amplified, it didn't sound very good. So I went to my friend at Ibanez who had made a couple of electric guitars for me, and I said, 'I want your lowest-end nylon-string guitar.'
"That ended up being the Galvador, which turned out to have a really beautiful sound. Much of The Nightwatchman catalogue was composed, from that point forward, on the Galvador, because it did have a pickup – you could plug it in anywhere. I went on a tour in 2003 with Billy Bragg and Steve Earle, and with the Galvador I could be a professional performer [laughs]. So it's the 'Whatever It Takes' guitar."
Why did you prefer a nylon-string guitar to a steel-string model?
"It was about the comfortability on the instrument. But I did like the way the songs were tailoring themselves to the unique sound of the nylon-string played as a folk instrument. It wasn't the hard-chugging, steel-string sound that you hear in a lot of folk music, nor was it the Spanish-inflected music that is usually associated with a nylon-string guitar. It was something different. The songs started winding themselves around the sound, and so I just kept on going."
Around the time that you began The Nightwatchman, I'm guessing that you listened to your fair share of Bruce Springsteen – his Nebraska album, in particular – along with people like Woody Guthrie. But did you tune into their guitar sounds at all?
"Yeah, although neither of those artists use nylon strings. Like on the early Dylan records, I was going for a certain quietness. There's a haunting quality, a loneliness – it's on some of the Johnny Cash records, and Bruce's Nebraska and The Ghost Of Tom Joad, and on Pete Seeger and Phil Ochs stuff – and I was able to tap into that and conjure it up better on the nylon-string acoustic."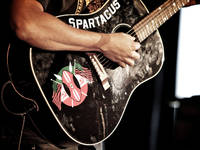 "I liked the feel of it, I liked the way it looked, and I knew where I was going to put 'Black Spartacus' on it," says Morello of his steel-string Gibson. © Michael Hurcomb/Corbis
When did the Gibson "Black Spartacus" enter the mix?
"That was a conscious decision to expand the sonic palette on what would be the fourth Nightwatchman album, Worldwide Rebel Songs. I had already made three albums that were driven by the sound of the nylon-string, so I thought, Hey, let's hear some other stuff [laughs]. So I got the Black Spartacus guitar and wrote the song Black Spartacus Heart Attack Machine in its honor. I thought it was nice to allow my muse to be led in other directions by the more attack-oriented strumming of the Gibson steel-string guitar."
On a technical level, were there any acoustic guitarists you sought out and studied, much in the way you did with Randy Rhoads and some other players on the electric?
"Not really. I mean, as an acoustic player, I'd been a fan of Segovia and Al Di Meola's work, but I didn't want any of that to enter into what I was doing. There are a couple of flight-fingered or flying-fingered flamenco solos [laughs] on some of the Nightwatchman records, like [The Lights Are On In] Spidertown, but it was an intentional ratcheting-down of pyrotechnics. I wanted the guitar to be more of a crucial part of the storytelling and the mood than as something that stands out and goes, 'Hey, check me out!'
"There's a lot of intricate guitar playing on Woody Guthrie records, a lot of fingerpicking on Springsteen and Dylan records, but that was never the appealing part to me. It was the mood of those songs and the ambience created by the combination of lyric and voice and instrumentation. Believe me, I've done plenty of fleet-fingered rock [laughs], and I wanted there to be more of a stark contrast.
"Having said that, on the most recent Nightwatchman record and on some of the stuff that I'm writing for the new one, there's a healthy dose of both electric and acoustic guitar playing with a capital 'GP.'"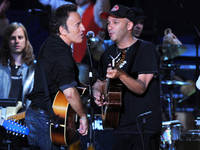 Morello and Bruce Springsteen celebrate Pete Seeger's 90th birthday at Madison Square Garden, 2009. © RD / Dziekan / Retna Digital/Retna Ltd./Corbis
You've affectionately referred to your electric guitars as 'misfit toys.' [Morello laughs] You're not one of those guys who lusts after the '59 Les Paul. Are you the same way with acoustics?
"Probably even more so. The Gibson, sure, that's a pretty nice one. I looked through the catalogue, and I went out and played some – but again, I chose it not because it had the most sterling sound, but because of the vibe of it: I liked the feel of it, I liked the way it looked, and I knew where I was going to put 'Black Spartacus' on it. The aesthetics of it were as important as anything sonically.
"There's an interesting story I can relate to this: I remember the time when Rage was rehearsing for the LA Rising show… or we might have been rehearsing for some South American gigs, 'cause it was a couple of years ago. We had to rehearse on rental gear because all of our stuff had been flown to Buenos Aires or somewhere. We played through the set and looked at each other and were like, 'We don't sound so good…' [Laughs]
"It was in part because the songs were crafted to the specific sound that we got. I think Brad said to me, 'We just don't sound good,' and I said, 'Well, if we had started on this gear rather than that gear, we would have made songs that sounded great on this gear.' Our creativity would have been bent to the sound. That's how I look at look at the guitars: Give me any one, and then let's have that be the starting point.
"I like the idea of the misfit toys being the arsenal rather than a bunch of pristine $50,000 guitars."
Read more about