Read more about
History of the acoustic: the virtuosi
at MusicRadar.com
---
Oklahoma born Michael Hedges wasn't the first to take acoustic guitar techniques to new heights of technical expression. As with every new master, he had stood on the shoulders of many giants to see the future that he would help to shape.
Jazz player extraordinaire Lenny Breau, 12-string master Leo Kottke and experimental wiz John Martyn are just the tip of an iceberg of players who had moved acoustic guitar techniques beyond even that of the great 60s triumvirate of Bert Jansch, John Renbourn and Davy Graham. But in Hedges, every previous approach would be crystallised, along with dozens of new techniques that he would devise, to create a self-sufficient one-man-band – without the bass drum and knee cymbals!
Signed to 'new age' record label Windham Hill, which he had launched with guitar-playing friend Will Ackerman, Hedges called his music 'new edge', 'acoustic thrash' or 'heavy mental'. In reality it was a mesmerising cocktail of strange tunings, on-body percussion, two- handed picking techniques and a lateral view of an instrument that's usually just strummed or tastefully picked. As Jimi Hendrix had done with a Fender Stratocaster, so Hedges' mind-boggling playing on his beaten-up Martin ushered in a new age of virtuoso acoustic guitarists.
His first Windham Hill album, 1981's Breakfast In The Field, was a stunning enough debut but its 11 tracks were classic fingerpicking fare. And even though tunes such as Silent Anticipations and Peg Leg Speed King demonstrated his fretboard antics well enough, the world had to wait three years to hear Hedges' boundary-busting masterpiece.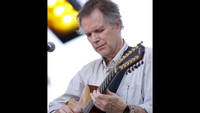 Leo Kotke pushed the 12-string acoustic into exciting new directions (Credit: Tim Mosenfelder/Corbis)
As well as creating compositions on which his percussion techniques, tapping, string pulling and harmonics-from-nowhere approach were often teamed with echo and other electronic effects, on Aerial Boundaries Hedges also showed how he loved to cover other artists' work. On this album he included Neil Young's After The Gold Rush, but other recordings saw unique readings of such classic as Dylan's All Along The Watchtower and an astonishing version of The Beatles' Tomorrow Never Knows.
Sadly, Hedges would not live to reap the rewards that he so deserved. While driving home from San Francisco airport on 1st December 1997, the guitar world lost one of its greatest stars, when his car skidded off the road and down a 120-foot embankment. Hedges died instantly, but his body wasn't discovered for several days. On Aerial Boundaries, Michael Hedges paid homage to another acoustic innovator with the track titled Bensusan.
French guitarist Pierre Bensusan plays exclusively in DADGAD tuning, to create masterful and beautiful compositions. His Celtic meets Gallic songs offer the listener beauty as well as technical perfection.
Among the post-Hedges American acoustic guitarists, players such as Preston Reed encapsulate the Oklahoman's technical prowess, perhaps even taking it further, while adding more of the rock sensibility to the music. Ani Di Franco is another member of the hip acoustic guitar club, her blend of punk attitude and folk sensibility – mated to staunchly feminist views and a guitar style that's almost violent in its approach – making her music at once challenging and rewarding.
Windham Hill's Will Ackerman, himself a highly respected guitarist, also signed the hugely talented Alex de Grassi. De Grassi is a multi-instrumentalist intellectual whose seminal album, Turning: Turning Back, showcased his hypnotic rhythmic layers over which intricate, picked passages are played. Like Hedges, many people hearing de Grassi assume it's at least two guitarists playing at once.
Although fellow Americans Laurence Juber and Doyle Dykes stick more closely to traditional acoustic guitar techniques, their sheer technical mastery brackets them comfortably within this 'virtuoso' genre. These highly respected players mix blues licks and death-defying country-inspired runs with seemingly impossible arpeggios, leaving the beholder gasping in amazement.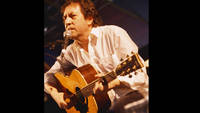 Bert Jansch inspired many with his work throughout the '60s and beyond (Credit: Rune Hellestad/CORBIS)
The UK has spawned many remarkable solo acoustic guitarists - not least Gordon Giltrap, whose lightning speed and compositional flair have won him legions of fans. Adrian Legg's country-tinged fret-melting continues to amaze audiences around the world, while newer artists such as Clive Carrol and Stuart Ryan have their own twist on this high-octane, one-man-and- his-guitar form of music.
Ireland's most prized one-man acoustic show is Eric Roche. Roche is head of guitar at Guildford's Academy Of Contemporary Music, but is a busy player whose post-Hedges style, heartfelt compositions and charismatic presence blend with unique renderings of rock and pop classics, like The Beatles' I Saw Her Standing There, Higher Ground by Stevie Wonder and a grin-inducing Smells Like Teen Spirit, from Nirvana.
One man to whom the phrase 'the best acoustic guitarist in the world' is continually applied, is the amazing Tommy Emmanuel. Australian-born Emmanuel began playing as a youngster, touring his native outback and absorbing any kind of music he could. Aged only seven, he heard US fingerpicking legend Chet Atkins and never looked back. His first solo album, Up From Down Under, came in 1988 and by 1997 he'd recorded the milestone CD, The Day Finger Pickers Took Over The World, with his childhood idol Atkins.
Like Michael Hedges, Emmanuel treats the guitar as an orchestra, creating all manner of drum and percussion effects, as well as playing with a technique so advanced and refined that his fingers can literally play anything his brain conceives. Emmanuel plays with his whole body, moving, swaying and almost dancing to the sound of his own instrument. Whatever type of music you like, to witness a Tommy Emmanuel concert is one of the wonders of the acoustic guitar world.
TIMELINE
Groundbreaking acoustic virtuosi of the 20th century
1956
Child prodigy Lenny Breau records his first album, Boy Wonder. Lenny later switched over from country to jazz
1969
Leo Kottke releases his debut album Twelve String Blues on the Oblivion label
1975
French guitarist Pierre Bensusan switches to DADGAD tuning and releases Pres de Paris
1976
Will Ackerman and Michael Hedges co-found Windham Hill Records, on which many fine acoustic guitarists
would gain recognition
1977
Gordon Giltrap releases his breakthrough album, Perilous Journey, featuring the track Heartsong
1984
Aerial Boundaries, the groundbreaking album by Michael Hedges, hits the shops
1988
Tommy Emmanuel releases his first solo album, Up From Down Under
1990
Adrian Legg releases his milestone album Guitars And Other Cathedrials
1997
The Day Finger Pickers Took Over The World, a collaboration between Tommy Emmanuel and his boyhood
hero Chet Atkins, is released.
1999
Irishman Eric Roche produces his first album, The Perc U Later
2002
The Martin Guitar Company introduces the OMC-18VLJ signature guitar for ex-Wings guitarist turned solo performer, Laurence Juber
Read more about