Read more about
History of the acoustic: acoustic jazz
at MusicRadar.com
---
Although Eddie Lang is widely acknowledged as being the first jazz lead guitarist of real significance, paving the way for Django Reinhardt and others, he sadly died too young to leave any lasting mark on the genre.
Reinhardt, however, captivated large pre-war audiences with his unique gypsy jazz guitar style. He was lucky to be able to continue to perform and record throughout the occupation of France, and toured with Duke Ellington in the US after the war. A legend in his own lifetime, Django was also one of the most influential jazz guitar players of his generation. It is an influence that is still felt today and young gypsy guitarists such as Bireli Lagrene are still bringing his sound to new audiences.
Another hugely influential guitar style, was the bossa nova of Antonio Carlos Jobim. He pretty much invented the mixture of cool jazz and Brazilian samba, epitomised by his best known number, The Girl From Ipanema. American guitarist Charlie Byrd can be credited in bringing Jobim's breezy bossa nova fusion of jazz and Brazilian music to North American audiences, effectively launching the bossa craze in the US in the early '60s.
In '60s Britain, a different kind of jazz was developing. A young jazz virtuoso, known as John McLaughlin, started fusing blues with rock and more abstract forms of jazz. Perhaps better known for his frantic fusion playing with Miles Davis, and later his own Mahavishnu Orchestra, McLaughlin also released several influential acoustic albums of great note. My Goals Beyond (1970), in particular, is a John McLaughlin acoustic guitar tour de force, displaying his energetic, single-minded intensity on a mixture of jazz standards and originals.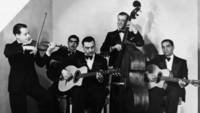 Django (centre) and his band get to work (Credit: Bettmann/CORBIS)
Also found on the album are a couple of intricate fusions of Indian rhythms and drones, a style of music he would later develop even further with Shakti. Whenever McLaughlin plays acoustic, his lines successfully blend eastern rhythms with jazz and fusion. He is still a huge influence on modern jazz players.

Al DiMeola, like McLaughlin, is known for his jazz fusion playing throughout the seventies and early eighties. He constantly challenged himself and his music and decided to also explore the acoustic guitar. In the late eighties he played on a couple of recordings with John McLaughlin and Paco de Lucia in an acoustic guitar supergroup known as The Trio. On these albums, his acoustic playing was very much in the flamenco and gitano styles. On World Sinfonia and Heart Of The Immigrant, Di Meola's evocative melodies and rhythmic diversity also showed the influence of the late Argentinian tango master, Astor Piazolla. Di Meola would later delve into world rhythms and he remains one of the globe's greatest players.

The late '70s and early '80s also saw the growth of another improvisational genius called Pat Metheny. The young American quickly made his mark in the jazz world as a solo artist and his versatility was almost without peer on the guitar. One of the best examples of his acoustic playing can be found on the 80/81 album. From the opening, strummed strands of Two Folk Songs to the pristine melodicism of Goin' Ahead, he blends innovation with tradition.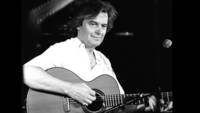 John McLaughlin blazed a trail for jazz guitarists to follow (Credit: Corbis)
Metheny's acoustic guitar playing is set against a backdrop of free-form tenor, propulsive drumming and innovative bass lines. The double album is filled with melodic intros, screaming breaks, and individual moments of dexterity and passion from each of the players. A slightly more funky approach to acoustic playing can be found in Detroit's Earl Klugh. Earl gained recognition in the early '70s for his contributions to George Benson's White Rabbit record and live performances with Chick Corea's Return To Forever. His popular solo recordings (for Blue Note, Capitol, Manhattan, and Warners) tended to use light funk beats, with a strong feeling for the great tradition of acoustic jazz guitar.

Meanwhile, back in Britain, Martin Taylor was inspiring a whole new generation of swing fans by teaming up with Stepahane Grappelli, whose past guitarist partners included Django Reinhardt and Joe Pass. This partnership helped give Taylor international recognition. After a series of working relationships with artists as diverse as Toots Thielemans and Buddy De Franco, Taylor went solo in the '90s, developing his own unique style even further. His 1993 Artistry album highlights his custom- made stereo guitar which separates the bass and treble strings into different channels. Taylor, in effect, accompanies his own swinging improvisations with chords and walking bass lines, all delivered at the same time.
All the guitarists we have mentioned have influenced a new young generation of players. It is reassuring, in this digital age, that the likes of Stuart Ryan and Dominic Miller continue to push the boundaries of acoustic jazz guitar and assure its future.
TIMELINE
The development of acoustic jazz guitar from 1920 to 2004
1920
Eddie Lang's and Lonnie Johnson's groundbreaking recordings inspire Django Reinhardt to play blues and jazz
1933
Django Reinhardt forms the Quintette Du Hot Club de France with violinist extraordinaire, Stephane Grappelli, and helps popularise swing throughout France and Europe
1962
Charlie Byrd, who used nylon-strung acoustic guitars, popularises the bossa nova style in the US
1963
Stan Getz and Joao Gilberto have a number one hit with their version of Jobim's The Girl From Ipanema
1970
John McLaughlin releases ground breaking acoustic guitar album, My Goals Beyond, arguably one of the first world music albums blending jazz with Indian music
1976

John McLaughlin surprises the music world, and his fans, by shifting his directions to purely acoustic guitar and playing Indian music with his group Shakti. They had a huge impact on the world music scene, which was still in its infancy, during their three years
1980
Pat Metheny releases his acoustic guitar masterpiece 80/81 and develops the soprano acoustic guitar
1993
Martin Taylor releases the jaw dropping Artistry album, recorded using a custom made stereo acoustic instrument
2004
Bireli Lagrene releases his Django tribute album
Read more about