Read more about
Acoustic week: Jake Bugg guitar guide
at MusicRadar.com
---
ACOUSTIC WEEK He's topped the album charts with his retro-flavoured folk, toured Europe and the US with Noel Gallagher, and made guitars cool to a whole new generation. MusicRadar caught Jake Bugg as his debut headlining tour passed through Bristol, and managed to get a look at the nation's newest acoustic-toting songwriter's gear up close.
Playing to a packed Thekla – a staggeringly small venue for an artist who has topped the album charts – Jake Bugg delivered the tunes from his debut album with an assured confidence and a buttoned-down Northern assurance. But while his expressive vocals and state-of-the-nation songwriting do a lot of the work for him, it's his guitar work that really impresses. On top of that, he's clearly a guitar nut like the rest of us – it just that he happens to be cultivating a megastar-sized talent as well as an eye for an eye-catching guitar or two.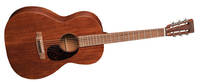 Jake Bugg's main acoustic, the Martin 00015-SM
There aren't many 18 year olds who'd choose a slice of scratchy Robert Johnson as their entrance music, but then Jake Bugg is pretty far from average. With a refreshingly simple stage set up – it's just Bugg, a bass player and a drummer – he's about as straightforward and unpretentious a live proposition as you can picture.
A tight-lipped performer, Bugg lets the songs do the talking for most of his time on stage, relying on a Martin 00015-SM for the majority of the set. An all-mahogany, 12-fet Martin that is perfectly suited to Bugg's earthy sound, it's been augmented with an LR Baggs M1 Active pickup and features a distinctive slotted headstock.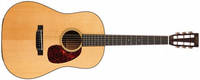 The Martin D-18VS - Jake Bugg's latest addition
You can always mark a new artists success by the guitars they acquire, and Jake Bugg is no different. To now, he'd tended to switch between the mahogany Martin and an FG series Yamaha, but has acquired another Martin. Similarly to the 000-15SM, his new guitar has a slotted headstock but this one is a D-18VS, an older model that's no longer on the market. A slope-shouldered dreadnought with on-board pickup, it's an impressive addition to Bugg's growing guitar arsenal.
Bugg is fluid and confident finger-picker who uses a capo for pretty much every number, alternating between picking and using lighter gauge plectrums to strum it out. His electric sound favours light distortion and the occasional heavy use of a tremelo pedal.
Aside from his mouth-watering guitar selection, it's surprising, considering the short, simply solos he has stuck to thus far on record, just how accomplished and a lead player Bugg is. Short, sharp flashes of a brash, polished lead lines pepper his performance, indicating that he has the chops to become a bone fide guitar hero.
Read our interview with Jake Bugg for more information (including the contents of his pedal board and his electric guitar set up), or visit the official Jake Bugg website.
Read more about