Read more about
Playing acoustic guitar: plectrum technique
at MusicRadar.com
---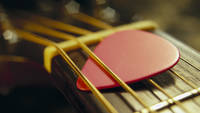 Before you take on the guitar styles of some of the most famous acoustic guitarists to walk the earth, you'll need to know a few basic plectrum and fingerstyle techniques. Let's get started, then.
Whatever you aspire to in your playing, a good grounding in basic technique is invaluable. Why then, I hear you ask, were so many of my favourite
players self-taught? Well, the answer is that they have still spent a lot of time honing their techniques, even if they haven't learnt them in a conventional way. With a few simple techniques at your fingertips, you will be able to articulate your ideas in weeks rather than years and still retain your individuality.
Read more about