*UPDATE!!!*
I recently got the following comment concerning this lesson: "I thinks its better that you did not use composer,for the simple fact, if you wanted something you had to think. Instead of listening to somthing and learning it because it was cool, you told us what to do and we did it our way." That nails the essence of what I am trying to accomplish with all my lessons - get the wheels turning so that YOU can get out of it what applies to you and your own unique style and interpretation! I'm glad that came across! Now, enough of my babbling - on with the lesson!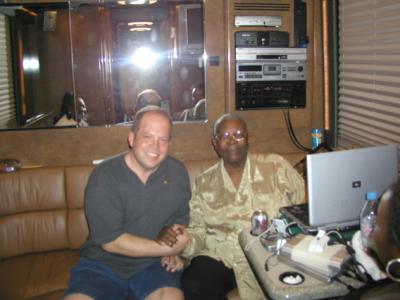 Click here to see BB and Me
He is arguably the most successful blues artist in history. He is the first or second generation influence of virtually every rock player today. Yet as distinctive and popular as his style is, his basic approach is actually pretty simple. His playing is not a matter of mastering dozens of tricky techniques - it is a matter of knowing a few and more importantly, knowing
when to use them.
The difficulty in replicating the B.B. sound is often that the player doesn't understand B.B.'s fundamental approach; using the guitar as a second voice, making it "speak", to his audience, and knowing that four or five notes, played the right way, are all that is needed to say what he has to say.