Jeff Brent's Rootless ii-V-I Jazz Chord Sequences
(iim9 - V13 - Imaj9 or I69)
These rootless open jazz voicings presented here for guitar are the exact same pitch sets as used in the Bill Evans rootless system for jazz piano chords.
However, on the piano, these chord components are in closed voicings. To identically duplicate all of those piano voicings containing 2nds is virtually impossible on guitar.
In the piano system, there are two preferred inversions commonly used (out of four possible) for a total of 24 combinations to accommodate all 12 keys (in the case of straightforward ii-V-I progressions).
On piano:
- The m9ths are spelled either
b3 5 b7 9
or
b7 9 b3 5
- The 13ths are spelled either
b7 9 3 6
or
3 6 b7 9
- The major quality chords are maj9ths spelled either
3 5 7 9
or
7 9 3 5
,
OR they are 69 chords spelled either
3 5 6 9
or
6 9 3 5
There are a great number of ways to scramble the four notes of each "Evans Chord", but only a certain percentage of them are even
possible
to finger on guitar.
Consequently, these are
MY FAVORITE ROOTLESS VOICINGS FOR GUITAR
for the m9ths, 13ths, maj9ths and 69 chords displayed here in ii-V-I progression format.
On the following pages are found only the most comfortable positions and those that I found most pleasing to the ear. This is not meant to be an exhaustive listing of all possibilities, it is simply a compendium of those rootless guitar voicings which I have found to be the most useful in the real world.
Some of these positions at the bottom of the fretboard near the nut are a bit of a stretch, but you'll find that they are quite comfortable when transposed up the neck.
To avoid muddiness on piano, the lowest note in the voicing is rarely lower than an octave below middle C. This is also a good idea on the guitar.
While I voiced most of these grips close to the nut for notation convenience, any that have a bottom note an octave (or more) lower than middle C will sound more clearly when transposed higher up on the fretboard.
I would strongly suggest that you find some way to add a low bass root into the mix, in order to hear how these voicings sound in an ensemble situation.
Get your friendly neighborhood bass player to play each root for you, or put an organ sound on a synth and hold down the pedal while playing the low roots, or program Band-in-a-Box, whatever ...
This will "flesh out" the sound and you'll be able to hear just how lovely these voicings really are.
I hope you get some good use out of them!
* * * * * * *

Table of Contents



page 2
iim9 - V13 - Imaj9 or I69
(iim9 - bII7#5#9 - Imaj9 or I69)

page 8
iim9 - V13b9 - Imaj9 or I69
(iim9 - bII7#9 - Imaj9 or I69)

page 14
iim9 - V7#9#5 - Imaj9 or I69
(iim9 - bII13 - Imaj9 or I69)

page 19
iim9 - V7b5b9 - Imaj9 or I69
(iim9 - bII7 - Imaj9 or I69)

page 25
iim9 - V7#5b9 - Imaj9 or I69
(iim9 - bII9 - Imaj9 or I69)

page 30
iim9 - V7b5#9 - Imaj9 or I69
(iim9 - bII13[no5, no9] - Imaj9 or I69)

page 36
iim9 - V7#9 - Imaj9 or I69
(iim9 - bII13b5 - Imaj9 or I69)

page 42
iim9 - V9#5 - Imaj9 or I69
(iim9 - bII9#5 - Imaj9 or I69)

page 48
iim9 - V13#9 - Imaj9 or I69
(iim9 - bII13#9 - Imaj9 or I69)




For a PRINTABLE PDF of all these rootless chord fingerings
formatted in Standard Music Notation and Guitar Tablature
CLICK HERE (9 pages).
Special thanks to Gerhard Ersdal for taking the time to put this notation/tab together.

Also thanks to Randall Carlson and Brian Prunka for proofreading and their suggestions.




The "Rootless II-V-I Tutor" below is derived from the same materials as above.

The chord components' degrees are mapped onto an interactive fretboard.
The V7alt buttons allow for instantaneous comparative analysis.
Quite simply the most intuitive exposition of chord relationships I've ever seen.

Special thanks to Joe Bianco for this!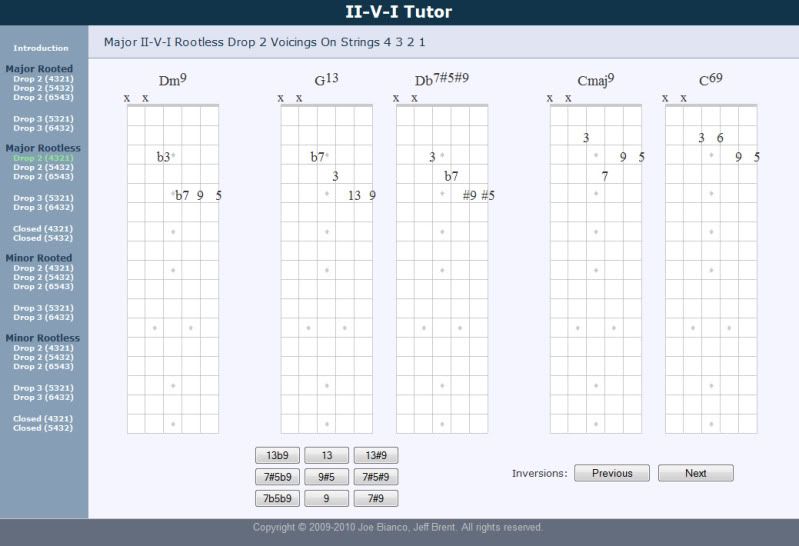 To go to my WholeNote lesson (#12058) on the
Minor iim7b5 - V7alt - im Rootless Jazz Chord Sequences,
click here.




www.Guitar-Lessons-Riverside-CA.com
Jeff Brent 2009